Me and the fellas over at The Big Lead
got on the topic
in last night's Late Night
posts
about the NBA's ugliest players. A lot of names were thrown out there, but here's what we settled on. Bear in mind these are current NBA players, so Sam Cassell, Popeye Jones and the like aren't included.
Point Guard - Rajon Rondo, Boston Celtics
What's not going for him:
1) Bug eyes
2) High cheek bones
3) Boney shoulders
4) Abnormally large hands
5) Wears green
AKA:
Female alien
.
Shooting guard - Delonte West, Cleveland Cavaliers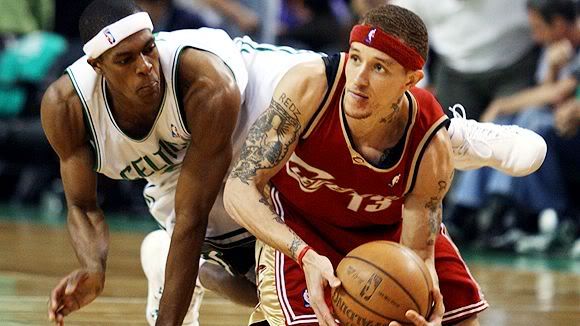 What's not going for him:
1) Ginger
2) Race unknown
3) Herpes mouth
4) Gross tattoos in bad spots
AKA:
Ent from Lord of The Rings
(thanks, commenter mrejr)
Small forward - Charlie Villanueva, Milwaukee Bucks
What's not going for him:
1) No body hair
2) Seriously. No body hair.
3) Not even eyebrows
AKA:
Shaved cat
Power forward - Robert Swift, Oklahoma City Thunder
1) Ginger
2) Cryptkeeper Hair
3) Uncanny resemblance to the Flying Ginger Shawn White
AKA:
Rocky Dennis
Center - Shelden Williams, Sacramento Kings
What's not going for him:
1) Excessively large forehead
2) Ears stopped growing at age 3
3) Eyes roughly 7-8 inches apart
4) Probably drank nerve tonic
AKA:
Ken Griffey Jr. from The Simpsons
Also receiving votes:
Chris "Caveman" Kaman
, Joakim "
My Precious
"
Noah
and
Adam Morrison
(
pre-
and
post-hair
)