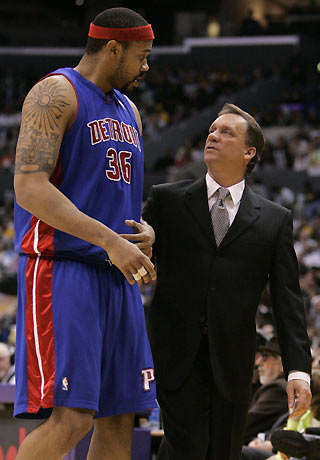 The Detroit Pistons
fired head coach Flip Saunders today
three days after the team was bounced from the Eastern Conference Finals for the third straight season.
This move does not shock me and rather comes as I expected.
Saunders took over a team that reached the NBA Finals in consecutive seasons in 2004 and 2005, but couldn't return the Pistons to that glory. Instead, he coached them to three straight Eastern Conference Finals in which they were defeated by three different teams.
Saunders replaced Larry Brown, the nomadic coach who's niche is defense and discipline. Saunders simply needed to manage the Pistons core of players that's remained in tact since 2003. He didn't need to motivate; this group of career castoffs played motivated in those NBA Finals years. It was expected they'd do the same to return to the NBA Finals.
But Saunders' coaching style often clashed with players, namely Rasheed Wallace. I don't think he ever gained their respect. As 2007 Piston Chris Webber pointed out during his guest spot for TNT during Detroit's playoff series against Philadelphia, (verbatim), "I don't think those guys are listening to what Flip is saying right now. They can motivate themselves."
While the sole blame of the past three seasons can't fall squarely on Saunders' shoulders, this move by Veep of basketball operations Joe Dumars was the right one. I bet it won't be the last one, either. This roster will not win another championship. It's time to shakeup the core of players.